Initial Award Letter
Your 2019-2020 initial award letter is a result of the submission of your Free Application for Federal Student Aid (FAFSA).  This may be the only paper version of the award letter you receive.  Revisions to your awards will appear in your FlashLine account.
Financial Aid Programs
The financial aid programs are the awards you have been offered for the 2019-2020 award year. Financial aid awards with a status of "Offered" may be accepted or declined via your FlashLine account.


To view your awards and to make award decisions:

Log into FlashLine.
Select the Student tab
Select the Finances tab
Select the Financial Aid tab
Click on the Financial Aid Awards box (Pin to Dashboard).
After selecting the aid year, click Submit and select the Terms and Conditions tab to review and acknowledge that you accept the terms and conditions of receiving financial aid.
Click on the Accept Award Offer tab to make a decision.
External Resources
You must notify One Stop for Student Services of all external awards such as scholarships, tuition assistance, fee waivers or other educational resources you receive or expect to receive. If you fail to report these resources, your financial aid may be adjusted at a later date. Please report additional resources. 
 

Enrollment Plans
Your financial aid package is based on the campus and enrollment status on the award letter. If this is incorrect, please use the award letter to make any corrections and return it to One Stop for Student Services.
Your Financial Aid Plan
A Step-by-Step Guide to Figuring Out Your College Cost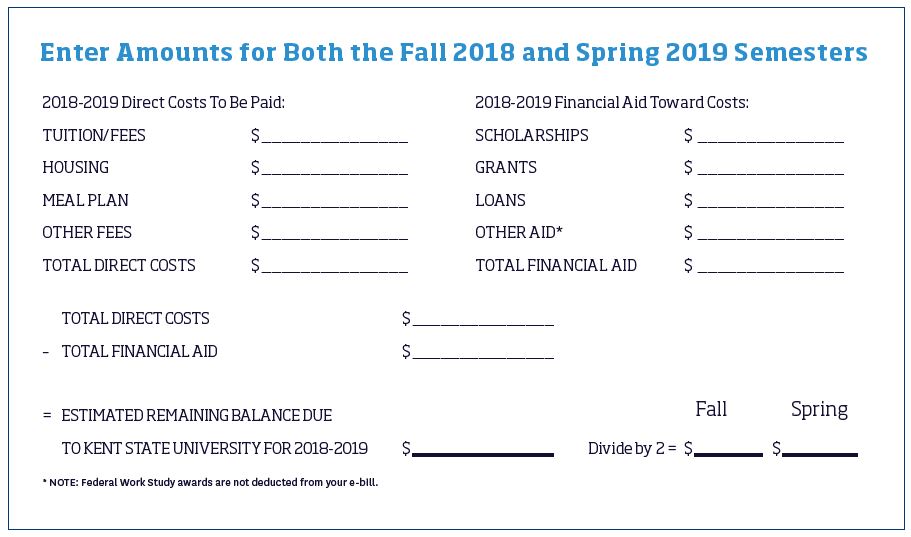 1. Review your Financial Aid Award Letter
Read the enclosed Financial Aid Award Letter to determine the financial aid you are eligible to receive in the 2019-2020 year. Please note, the Financial Aid Award letter is not your e-bill. The Bursar's Office will publish your e-bill that includes your direct costs.
2. Determine your Direct Costs at Kent State University
Find current tuition and fees and housing and meal plan rates for each semester at the links below.
3. College Cost Worksheet
Use the worksheet above to estimate your direct costs and your financial aid awards. Calculate to determine if you will have a remaining balance.
4. Plan your Personal Payment Options
If there is a remaining balance, determine how you will cover your expenses. The following options are available:
Direct PLUS loan for parent borrowers only.
Private loans — nonfederal student and parent loans that provide additional funding for unmet college expenses. Most lenders will require a co-signer for student borrowers. Kent State will process any alternative loan application for any lender that the student selects. To review lender information and apply for a private loan, visit FastChoice.
Loan Information
Student Borrower Requirements (Federal Direct Loan)
Must log in to FlashLine to accept, reduce or decline their offered loans.
Students who make the decision to accept their loan(s) must sign in to StudentLoans.gov and:

Complete Entrance Counseling
Sign a Master Promissory Note (MPN)
Parent Borrowers (Federal Direct PLUS Loan)
Available to parents of dependent, undergraduate students. Parent borrower must be biological parent or adoptive parent. The stepparent whose information is reported on the FAFSA is also acceptable. Application available after May 1.
Steps to Apply for a Federal Direct PLUS Loan
Parent decides loan amount to request by reviewing enclosed award letter for estimated Federal Direct PLUS loan amount.
To borrow a PLUS loan, parents must sign in to StudentLoans.gov using their parent personal Federal Student Aid ID (FSA ID).
Parent selects Apply for a PLUS Loan, then clicks on the START button next to the Direct PLUS Loan Application for Parents.

Deferment option available; interest accrues.
Indicate term of loan by selecting the dates loan is desired.

Fall and Spring (amount divided evenly between each semester (August - May)
Fall only (August - December)
Spring only (January - May) will be available in November

Indicate desired loan amount

Parent receives immediate credit decision. If the credit is approved, parent must sign the PLUS Master Promissory Note (MPN) at StudentLoans.gov. Some PLUS borrowers may be required to complete PLUS Counseling.
If the PLUS loan credit is denied:

The student may accept an additional unsubsidized loan based on his/her eligibility (freshman/sophomore - $4,000). This loan will offered to the student and may be accepted by logging into FlashLine.
Parent borrower can choose to Appeal Credit Decision via Studentloans.gov.
Parent borrower can choose to Seek an Endorser via Studentloans.gov.