In an effort to maintain a high level of service while positively impacting our overall costs,  Kent State University is pleased to announce National Car Rental and Enterprise Rent-A-Car as the preferred rental car vendors for university use.  This partnership allows us to consolidate spend, simplify program management and significantly reduce our annual car rental expenditures. 
The rental information below is for university-related business purposes travel only. Students are not permitted to rent a vehicle using the university code and are not permitted to drive a university vehicle unless specific authorization is granted by the department head and verification of valid driver's license is conducted.  Personal rental employee discount information is provided through Kent State University's Human Resources department.
Employee-only Automobile Rental Procedure
Kent State University Flashcard ID MUST be presented at time of pickup to verify staff/faculty status
For each vehicle rented, the employee must execute Enterprise's Rental Contract in the jurisdiction in which the vehicle rental occurs.  Each employee must possess a valid driver's license issued by the state in which such person resides, and must be age 18 or older. The university will no longer authorize the use of 12-15 passenger vans.
All vehicle rental rates are to include:  normal commercial rentals, unlimited mileage, and all other applicable charges, excluding the cost of gasoline or allowable charges.  
Base rental price includes the Liability Coverage with a combined single limit for bodily injury and property damage of at least $1,000,000 and Loss/Damage Waiver (CDW) for accidents arising out of the operation or use of the rental vehicle.
Pricing and Terms
| Vehicle Description | Daily Rate | Weekly Rate | 30 Day Rate |
| --- | --- | --- | --- |
| Economy | $31.30 | $156.51 | $626.05 |
| Compact | $31.30 | $156.51 | $626.05 |
| Intermediate | $33.20 | $166.00 | $664.01 |
| Standard | $33.20 | $166.00 | $664.01 |
| Full Size | $35.79 | $178.94 | $715.78 |
| Premium | $59.30 | $296.48 | $1,185.93 |
| Luxury | $59.30 | $296.48 | $1,185.93 |
| Mini Van | $53.72 | $268.62 | $1074.48 |
| Small Pick Up | $48.89 | $244.56 | $963.40 |
| Large Pick Up | $53.05 | $265.27 | $1061.08 |
| Small SUV | $54.77 | $273.85 | $1,095.39 |
| Medium SUV | $57.77 | $273.85 | $1,095.39 |
| Large SUV | $84.63 | $423.15 | $1,692.61 |
*Pricing effective 07/15/2016
Geographic Surcharges
The following city differentials apply to this contract:
$6 - California: Los Angeles Metro, San Diego Metro, San Francisco Metro, Oakland Metro,Riverside Metro, San Bernadino Metro
$6 - Texas: Midland Metro, Lubbock Metro, Austin Metro, College Station Metro, Houston Metro, Dallas/Ft Worth Metro, San Antonio Metro, Brownsville/Corpus Christi Metro
$7 - Vermont: Burlington Metro
$7 - New York: Albany Metro
$10 - Alaska: Fairbanks, Anchorage, Juneau
$15 - New York: Long Island Metro, Westchester Metro, Newark Metro
$23 - New York: New York City Metro
For rentals commencing in Manhattan all day Friday through 12:59 pm Sunday and for rentals commencing at JFK and LaGuardia Airports between the hours of 1:00 pm Friday through 12:59 pm Sunday, current published rates, less a discount will apply.
Geographic Surcharges may apply at some Canadian locations
Reservation Process
Please contact procurement@kent.edu for the Kent State University code to make a reservation!
Before your first rental with National or Enterprise, please take the time to enroll in the complimentary Emerald Club program noted below.  This will ensure you receive the appropriate rates, services and benefits every time you rent.  If you already received a communication with enrollment instructions, you do not need to enroll again through this announcement.
Enroll in the Emerald Club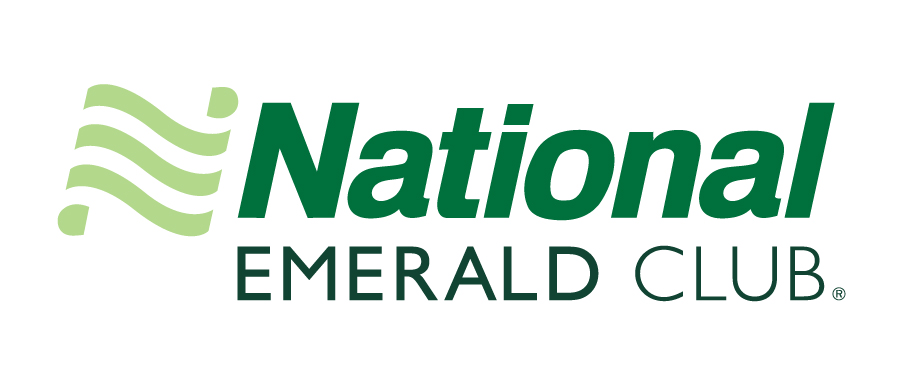 This will take approximately five minutes and your membership will be active immediately upon completion.
As an Emerald Club member, you will receive the following benefits, among others:
Bypass the counter and choose your own car
Bypass the rental counter and go directly to the Emerald Club Aisle® at more than 50 major airports in the U.S. and Canada.  On the Emerald Club Aisle, choose your own car from a selection of mid-size and larger vehicles, and pay the reserved mid-size rate.
E-receipts for faster returns
There's no need to wait around for a piece of paper when you return your car. Sign up to receive this benefit  and we will automatically email your receipts to you within 24 hours of each returned rental.
Choose your rewards
Earn rental credits towards a Free Rental Day with every seven rental credits earned. Or choose to automatically receive frequent flyer miles for each day rented (average of 50 frequent flyer miles per rental day - amount varies by airline).
As an additional convenience, Emerald Club members may reserve at Enterprise Rent-A-Car locations where National is not available, using their Emerald Club number allowing for the contracted rates and certain profile data availability at the Enterprise counter.
You may make arrangements to rent an automobile for university-related travel in person at a rental location or online; Vehicles must be rented under Kent State University Account Number in order to receive contracted rates.   NOTE:  Kent State University Flashcard ID MUST be presented at time of pickup to verify staff/faculty status.
The Enterprise office for in-person rentals address is: 1211 W. Main Street, Kent, Ohio. You may also call 330-677-4447 or any of their 60 locations in Northeast Ohio to rent a vehicle.
To make a reservation online:
Enterprise Rent-A-Car   

National Car Rental     
Each renter will be required to arrange for the payment of the rental at the time the reservation is made. This is best accomplished by using the renter's personal credit card. The rental expense will be reimbursed when an approved employee reimbursement workflow is submitted to Accounts Payable for processing.  DIRECT BILL is available only under Special Circumstances with advance approval from the Procurement Department. Please contact procurement@kent.edu for more information. 
PERSONAL ACCIDENT INSURANCE (PAI)
Any individual renting a vehicle for business use should request "Personal Accident Insurance" (PAI) when renting from Enterprise. Other rental car companies may use slightly different terminology for this coverage. This option provides some coverage similar to uninsured/underinsured motorist coverage.

Under the university's contract with Enterprise, PAI will cost an additional $6.00 per day for all vehicles rented except mini-vans, pickup trucks, and sport utility vehicles. These vehicles will have an additional cost per day at local Enterprise locations.  Please contact procurement@kent.edu for rates.  PAI will be reimbursed along with all other approved travel and rental car expenses. PAI at other locations will vary.
ADDITIONAL PROGRAM INFORMATION
One-Way Rentals
National will charge base rate and other allowable charges identified above for a one-way vehicle rental as if a round trip rental. Contractor shall not charge any drop fee or mileage charge for one-way rentals of 500 miles or less. For one-way rentals greater than 500 miles, Contractor may charge a higher daily rental differential fee. 
Weekend Vehicle Returns
Some rental vehicle offices may be closed on Saturday or Sunday. If a vehicle is returned before the mid-point of the day on a Saturday or a Sunday, customer will be charged for a full day's rental. 
Early Pick Up of Vehicles
Enterprise Rent-A-Car locations offer a Quick-Start Program for Customer business rental that originates in the IUC-PG. This service allows an employee to request a "quick-start", also referred to as suspended charges. Upon request, State Employees, IUC-PG Members and Cooperative Purchasing Program (COOP) Members needing to depart on a Tuesday through Friday before Enterprise opens may secure a rental vehicle the evening before their trip. For a fee of $25.00, the traveler may rent the vehicle after 4:30 p.m. the day prior to their trip and daily rental charges will begin the next morning, no later than the time at which that rental location opens. Friday pick-up: If the vehicle is needed on a Monday morning, the traveler may rent a vehicle on Friday after 4:30 p.m. with charges beginning on Sunday morning at 8 a.m. for a fee of $25.00. Saturday pickup: If the vehicle is needed on a Monday morning, the traveler may rent a vehicle on Saturday morning during Enterprise business hours and charges will begin on Monday morning at 8 a.m. for a fee of $25.00. Quick-Start Program Fee: $25.00 for early pick up. 
Gas refueling options
Vehicles shall be provided with a full tank of gas. The following refueling options apply to this contract. Refueling rates vary by location, and the option selected. 
Option A: Prepay at all Enterprise airport locations: At the time of rental pickup, renters may purchase a full tank of gas at competitive industry pre-purchase fuel prices. Customer can ask the rental agents for the Fuel Service Option (FSO) and corresponding rate.
Option B: The renter will be charged the refueling rate based on current full-service, per-gallon pricing, plus a fee of up to 50 percent. (Option B is not supported by the University)
Option C: You refuel: The renter replaces all gallons used before returning the vehicle to avoid all refueling charges.
Pick-Up Service
Enterprise is in the business of providing a signature pickup service for our customers. At no additional charge, Enterprise will offer a ride to and from the local Enterprise office. If the free pickup service is desired, the renter can contact the rental branch at least thirty (30) minutes prior to their reservation using 1-800-rent-a-car from their pickup location. 
Vehicle Delivery Services
Enterprise will deliver vehicles to business locations at no charge. Vehicles delivered to a Customer office or business location will be considered on rent and charges will start at the time of delivery. Vehicles delivered will be considered ready for return upon Customer contacting the rental branch. Charges will stop at the time of the call. Customer will remain responsible for vehicle condition until the vehicle is moved from its parked position. Vehicles returned to branches other than the originating branch must be pre-arranged at the time of delivery and may be subject to drop fees. 
Vehicle Availability
For guaranteed availability on minivans, large SUVs, seven (7) days advance reservations are required. Reservations on these categories of vehicles can be made without seven (7) days advance notice, but availability will not be guaranteed. All other classes of vehicles are guaranteed with reservations. 
Month or More Rental Plan
For monthly rentals (30 days or more), Enterprise Rent-A-Car will offer a Month or More price discount as set forth herein. To initiate the Month or More Rental Plan, Customer shall call 1-800-209-3602. Notwithstanding any initiation by Customer of a Month or More Rental Plan, Customer understands and agrees that any such vehicle rental(s) will be invoiced on normal terms (every 29 days) and subject to the then applicable Rental Agreement and shall, under no circumstances, be considered a vehicle lease. The monthly rates are further discounted as follows:
$25 off the second consecutive full 30 days.
An additional $25 off the third consecutive full 30 days.
An additional $25 off the fourth consecutive full 30 days. The maximum total discount available is $75 per rental. 
Daily or weekly rates apply, as applicable, to rental increments of less than thirty (30) consecutive days. Rentals for over three (3) months are not permitted by state agencies. State agencies shall contact the Office of Fleet Management if requesting a rental for over three (3) months.
Signature on File
As part of any rental transaction in which an Enterprise Rent-A-Car location delivers possession of a rental vehicle to an Eligible Renter or agent of Customer, other than the Eligible Renter intended as renter, the transaction will be subject to the following terms and procedures supplemental to those provided in the Rental Contract:
Customer's name will appear as "renter" on the Rental Contract;
The notation "Signature on File" will substitute for the signature or initials of the Eligible Renter intended  as renter in each applicable part of the Rental Contract;
Customer will be responsible for designating the Eligible Renter intended as renter, as authorized to accept possession of the rental vehicle, and for procuring a written receipt from such Eligible Renter confirming delivery of possession of the rental vehicle;
Customer will not allow use of the rental vehicle by any Eligible Renter under the age of 18 or as provided by law, or use by any Eligible Renter other than for business use, or use by any Eligible Renter not possessing a valid driver's license issued by the state in which the Eligible Renter resides;
Customer will be responsible for ensuring compliance with California Vehicle Code Sections 14604-14609 and any other state's comparable law by assuming Enterprise's responsibility to compare the signature of the Eligible Renter to whom the vehicle is to be rented to the signature of such Eligible Renter on his or her driver's license. For clarification purposes, this requirement applies only to rentals originating in California.
Resources and Tools
For more information, contact Janet Schramm in the Procurement Department at 330-672-9193 or jschramm@kent.edu.