Anna Droz | Green Roof Professional (GRP); Living Architecture Monitor; February 8, 2022
Anna Droz is a certified green roof professional (GRP) finishing up her PhD in ecology at Kent State University. She conducted research in the Midwest USA on the plants, substrate, and fungi in the green roof environment, as well as how we can manipulate these factors to optimize green roof health and functioning. She has consulted on several green roof projects and firmly believes in the importance of including biophilic design in the urban landscape for all to enjoy. For more information, and consulting inquiries, Anna can be contacted at anna.g.droz@gmail.com.
What are you currently studying in school?
I am an ecologist and I study the plants, soil, and microbial fungi in green roofs in the Midwest US. It's a wide range, but I visited all types of roofs in Cleveland, Chicago and Minneapolis. I will be graduating in May 2022 from Kent State University.
Why did you become a Green Roof Professional (GRP)? 
I started my PhD in ecology in 2014, and when I first started I didn't have a focused topic in mind. I was interested in earthworm biology, but I also really cared about sustainability and green initiatives. Then, I met Dr. Reid Coffman, who has been involved with GHRC for a long time, and I worked on his design team as a biologist for the Environmental Protection Agency's People, Prosperity and the Planet student design competition. After completing the project, he told me that he had another project building experimental green roofs. I thought it was awesome and rewarding, in a way that I hadn't really experienced previously. I have been studying green roofs ever since! When he told me about the GRP program, I told him right away that I needed to be a part of the program.
How has it enhanced your career or opportunities?
I was previously a consultant for a small green roof company, and through that work I was able to connect with a local Cleveland woman who was applying for a green infrastructure grant. I was brought on as a maintenance consultant, and I oversaw the installation of it. I got my GRP in June, and in August I was working on this Cleveland project, and explaining the best practices that they should and shouldn't do. Immediately I was able to put that knowledge to use, when I was overseeing the installation several people came up to me and asked me questions I knew the answer to, because of the GRP program. In that way, it has helped.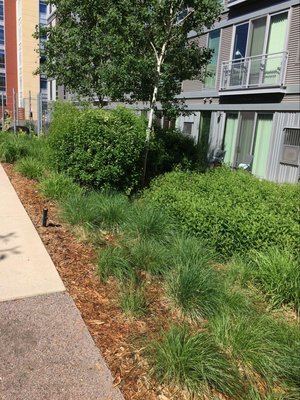 What trends about green infrastructure/sustainability make you excited for the future?
I read recently that the green roof market was expected to grow 15-17% by 2027. I've heard more people talking about green roofs in my daily life, and seen more articles about them online. Nine out of ten people that I've talked to about green roofs feel very positive about it, and they're very excited to learn about it, and frequently even ask if they can put a green roof on their house! It does speak to a broader whole that people do really love the idea, and I think it's very important to harness any momentum. There's so much potential for green roofs to make a difference in our society.
What do you see as the role of green infrastructure in resilience and the COVID-19 recovery?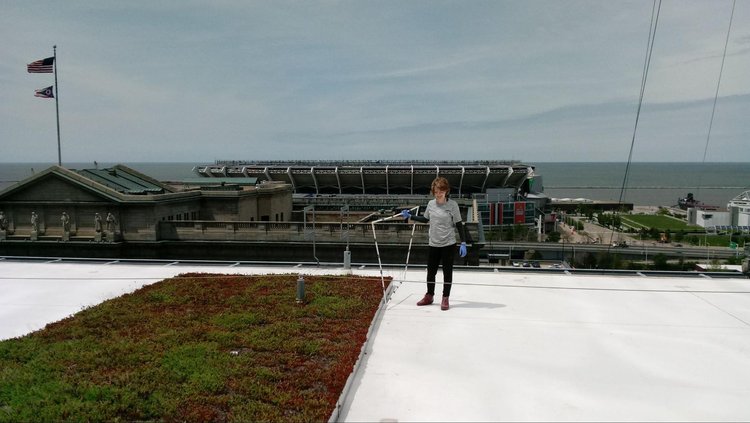 In a dense urban space, green roofs can potentially give an equality to people who aren't able to access it otherwise. If they can go up to the roof of a building and experience nature and feel human in the most natural sense – I think that's really valuable and important. Not just in dense urban spaces, everyone can benefit from seeing greenery, there are so few cons about green roofs that I think they have a place in every society.
Also, with their potential for carbon sequestration, enhancing air quality, and cooling properties, and so many other benefits, green roofs definitely do have a place in COVID-19 recovery. Anyone who has gone through the GRP program can see how much value there is.
Tell us about what you're working on right now.
I'm currently looking for a job in the green roof industry. I've been thinking about how I can contribute in some way and expand the opportunities in North America. A lot of places have so much potential, but don't have the policy and the knowledge to become what Chicago, Toronto, or Portland have become.
Is there anything else you would like to mention?
One thing that I would like to communicate is that the GRP training is excellent and it really filled me with confidence as soon as I got into the arena. You can read something in a book but if it doesn't translate well into real life, you may feel nervous about your expertise. The GRP program lays it out so I can identify problems and ways to expedite work. I would also like to stress the need to advertise and inform people about the GRP certification, as a certification is only as good as the people who know about it and recognize the value a GRP can bring to a project. GRHC is continuing to increase GRP awareness, which is really important moving forward.
And finally, It's also really important to get young people involved, as they are ultimately the future of the industry. Students fresh out of university immediately feel the pressure to get out there in the professional world and start a career. Feeling that pressure can lead students to take whatever opportunity that comes along first. Having opportunities in the green roof industry readily available for young professionals ensures their trajectory and involvement with green roof development. The sooner that younger professionals get involved the better it will be for the green roof industry. 
POSTED: Tuesday, February 8, 2022 12:00 AM
UPDATED: Saturday, December 03, 2022 01:02 AM