Kyle Batdorff named one of Stark County's 2019-2020 Rookie Teachers of the Year
Congratulations to Kent State CTTE alumnus Kyle Batdorff! Kyle was recently recognized as one of Stark County's 2019-2020 Rookie Teachers of the Year. He is the Precision Machining & Engineering Instructor at R.G. Drage Career Technical Center in Massillon.
---
Alumnus Greg Boykin: "We want to teach them that it's important to give back."
Kent State CTTE alumnus Greg Boykin and his students at Max S. Hayes High School are working to restore the car that Amanda Berry's grandfather kept for her during the decade she was kidnapped and imprisoned. Watch the full story on Fox 8 Cleveland.
---
TLC-CTTE grad Debbie Ganyard named Wow award winner
Debbie Ganyard, now a hospitality instructor at Buckeye Career Center, was recently named this year's Tuscarawas County Board of Developmental Disabilities and Better Together Committee Wow award winner for 2019. The Wow award honors an educator or school employee who helps students with developmental disabilities reach their potential.
Ganyard and her teaching assistants help students learn essential life skills while also teaching them to operate a cash register and distribute change, read a recipe and cook meals and wash and fold laundry and sheets. She is also involved in helping students operate the Joe Carlisle Marketplace, which promotes customer interaction while selling pastries and coffee to staff members and the public.
---
CTTE student Tiffany Daley featured in Business Journal article
"You have to believe it, you have to want it, and you have to work for it." - Tiffany Daley, instructor at Trumbull Career and Technical Center and owner of Breakfast at Tiffany's Diner in Sharpsville, PA, shares how her childhood dream has come full circle in this video and story from BusinessJournalDaily.com.
---
CONGRATULATIONS to Massillon Washington High School,
winners of the 2018 NATAS-Lower Great Lakes Student Production Awards (Commercial) for their video CTE Works for Me. Massillon Media Arts teacher Matthew Ferrell is a current Kent State CTTE student.
---
Local chef/CTTE student competes on Hell's Kitchen
Scott Popovic, Culinary Arts teacher at Polaris Career Center, was recently selected to compete on Gordon Ramsay's show Hell's Kitchen (FOX). Scott is currently taking licensure courses through our CTTE program. Read more about Scott's culinary adventures at cleveland.com.
---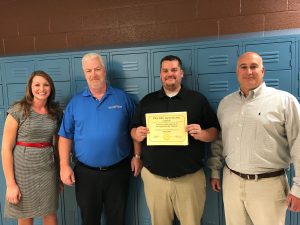 VEC, Warren JATC, and Trumbull Career and Technical Center Partner on Electrician Pre-Apprenticeship Program
With an aim to help address the labor shortage, local organizations partnered to create an electrician pre-apprenticeship program in Trumbull County. CTE alum Nate Burton, Electrical Technology Instructor at Trumbull Career and Technical Center, is pictured here (second from right) along with Cara DeToro (TCTC), Eric Davis (Warren JATC), and Dave Jakovina (VEC, Inc.). Read more about the pre-apprenticeship program
---
CTTE alumna receives Ohio ACTE award
Congratulations to KSU Career-Technical Teacher Education alumna Melanie Kirin, who has received the 2017 Ohio ACTE Educator - Outstanding New Career and Technical Teacher of the Year Award! Melanie is the Marketing Teacher at Bedford High School. Her program is aimed at preparing students for postsecondary education and careers in marketing communications, marketing management, marketing research, merchandising, and professional sales. Students actively engage in tangible, cooperative education building core academic and professional skills.
---
Local Student Beats the Odds to Follow Her Dreams
Daejah Mccormick - culinary arts student, Kenmore High School (Kenmore, Ohio)
The Kenmore Community Center, 880 Kenmore Blvd., Kenmore, OH is the location of a classroom setting that Culinary Arts teacher, Clayton Cundiff, has created for his Kenmore culinary arts students.  Mr. Cundiff is a Kent State University CTTE alumnus. Recently one of his culinary students, Daejah McCormick, was featured on Cleveland's News Channel 5 Special Report.  Ms. McCormick has been accepted into the Culinary Institute of America.  Mr. Cundiff says, "It is kind of a one in a million.  It's (Culinary Institute of America) the Harvard of culinary schools."