What would you say to the COVID-19 vaccine?
Global Vaccine Poem
We are excited to announce the Global Vaccine Poem project that is a collaboration between the Wick Poetry Center at Kent State University, housed in the College of Arts and Sciences, and The University of Arizona Poetry Center, housed in the College of Humanities. It offers an inclusive and participatory opportunity during the universal vaccination experience, inviting all to share their voices and promote COVID-19 vaccination through the imaginative language of poetry.
Add Your Voice to the Global Vaccine Poem
---
The Global Vaccine Poem aims to make poetic meaning of the experience of being vaccinated, and is modeled after Naomi Shihab Nye's poem Dear Vaccine.
You can read the poem and add lines of your own to a growing gallery that has over 600 responses from 56 countries all around the world.
---
Read the article by Amanda Garret on Akron Beacon Journal below. Photos: Mike Cardew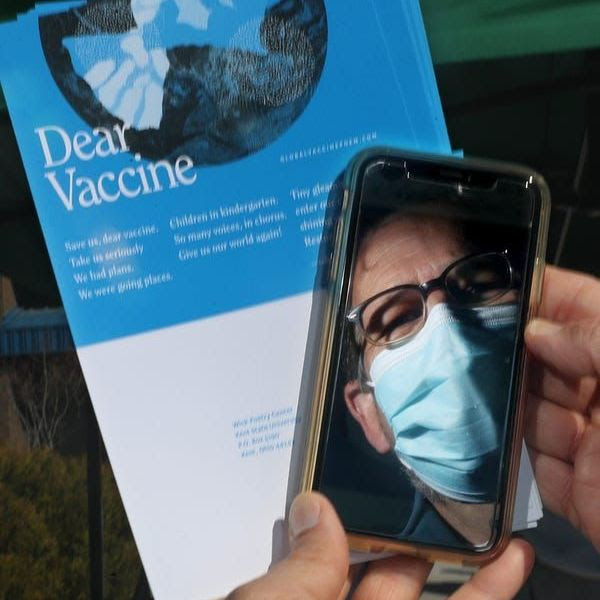 News Story in the Akron Beacon Journal
---
Watch the webcast kicking off the Global Vaccine Poem. Andrew Revkin, Director, Initiative on Communication Innovation and Impact, The Earth Institute, Columbia University, talked to Naomi Shihab Nye, Jane Hirshfield, E. Ethelbert Miller, Jacqueline Saphra, Caite Young, Cathy Song, Danusha Laméris, among others.
---
The Portage County Combined General Health District's mass COVID-19 vaccination clinics at the Kent State Field House are now open to the general public every Tuesday. College of Nursing students are giving out Global Vaccine cards that you can fill out during the 15-minute observation period after a vaccine is administered.
More information about the Vaccination at the Field House
---
You can read more about the Global Vaccine Poem project below, photo by Bob Christy.
POSTED: Tuesday, April 6, 2021 11:49 AM
Updated: Friday, December 9, 2022 02:35 PM