Elizabeth (Liz) Baker, M.A.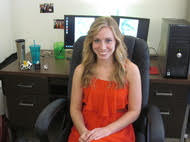 Elizabeth (Liz) Baker, M.A.
Fifth Year Graduate Student
Kent State University
Dept. of Psychological Sciences
Elizabeth (Liz) Anne Baker received her B.A. from the University of Findlay and received her M.A. and Quantitative Minor from Kent State University. She currently works as a doctoral student at Kent State studying interpersonal violence. She conducts research to better understand why people perpetrate violence as well as what places people at risk for being a victim of violence. She is currently implementing and evaluating a prevention program she created to address dating violence. In the future she would like to continue creating, implementing, and evaluating  interventions related to violence. She also hopes to broaden the scope of her research by conducting treatment research for a range of maladaptive behaviors.