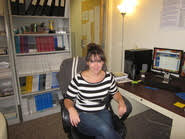 Haylee DeLuca, M.A.
Fourth Year Graduate Student
Kent State University
Dept. of Psychological Sciences
Haylee DeLuca received her B.A. in psychology from the Ohio State University in Columbus, Ohio in 2011. She received her M.A. in general psychology from the University of Dayton in 2013. Haylee is currently a third year student in the experimental psychology program at KSU. In general, she is interested in development within the context of interpersonal relationships, such as friendships, committed romantic relationships, and casual sexual relationships and experiences. Specifically, she is interested in the role these relationships play in development from adolescence through young adulthood in normative and at risk populations. In her research, she hopes to identify protective factors and risk factors within these relationships to explain why some youth experience more successful developmental outcomes than others. In the future, Haylee would like to obtain a position that will encourage her to pursue her research interests.